Street Level Health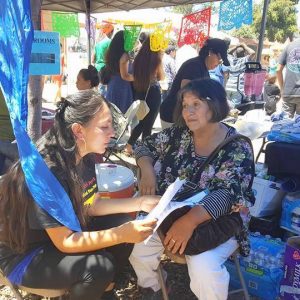 Vesper Society believes in a simple idea: a just society begins when everyone is well, and respected as a human being. Every day, we link arms with leaders of overlooked communities that want to create a healthy future, and help them devise ways to do it.
Street Level Health is one of those leaders in Oakland, improving the health and wellbeing of underserved urban immigrant communities in the Bay Area. Over the past 15 years, their Health Access Program has supported thousands of low to no-income adults in the Fruitvale District of Oakland where 48 percent of households live below the Federal Poverty Level and 16,000 adults live at risk of developing cardiovascular disease.
Known to many as the "safety net of the safety net," Street Level Health's center in the Fruitvale District serves a marginalized population excluded from the Affordable Care Act. According to the California Department of Health Services, through a Whole Person Care Model they triage clients who are 93 percent foreign-born with 43 percent having resided in the U.S. for less than three years. This population of Limited Language Proficient adults face a multitude of barriers that include language and literacy skills, legal status, unemployment, and lost work opportunities due to long wait times at Federally Qualified Health Centers. Increasingly, they also serve a growing number of the working poor who are unable to afford Covered California and have incomes that exceed the eligibility requirements for public benefits (138% – 200% Federal Poverty Level, which for a single person is $16,395).
In September 2016, Vesper Society partnered with Street Level Health to respond to the lack of access to culturally and language responsive behavioral health services. These services focused on immigrants who face psychological and physical threats associated with extreme poverty, emotional trauma, and the informal labor markets that they are forced to access due to immigration status.
Vesper funding supports uninsured and underinsured adults to access free, drop-in, individual mental health consultations, and peer support groups. Through narrative therapy, they ensure a respectful, non-judgmental approach to counseling that centers people as the experts in their own lives. Part treatment, part prevention, Street Level Health's behavioral health model acknowledges the intersections of immigration status and poverty and supports immigrants that are often exposed to exploitation, violent crime, and migration related trauma.
Street Level Health is supported by caring individuals who believe that health is a human right. After a recent site visit to their center, a Vesper board member commented, "I was expecting to see a clinic. Instead, we experienced a welcoming community that cares about people's health, whether they have enough to eat, and do they have a job. It was very holistic."
Vesper Society believes that communities need transformation, not transactions, and that the transformation of a community is achievable if its people are approached with respect, hope, passion, and inspiration. By being in service to Street Level Health, our work can facilitate change and be truly uplifting to the Fruitvale community.
To learn more about Street Level Health and how to support their work and the right of immigrants to live with dignity, visit their website: www.streetlevelhealth.org.