La Clinica Oakley Specialty Mental Health Moves to New Site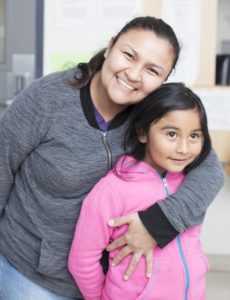 Vesper Society is committed to improving the health and well-being of youth and families. One way we do this is by supporting La Clínica de La Raza in Contra Costa County.
Throughout its 47-year history, La Clínica de La Raza, Inc. (La Clínica) has delivered health care services in a culturally and linguistically appropriate manner to most effectively address the needs of the diverse population it serves. In 2017, La Clínica served 86,884 patients and provided 360,570 patient visits in 35 sites in Alameda, Contra Costa, and Solano counties in California.
La Clínica's behavioral health department was founded in 1973 in response to the community's need for culturally appropriate behavioral health services for the Latino community and offers three levels of mental health services: Prevention and Early Intervention, Integrated Behavioral Health, and Specialty Mental Health.
La Clínica's behavioral health services have expanded considerably over time. La Clínica's Casa del Sol, located in Oakland's Fruitvale district, was once La Clínica's sole Specialty Mental Health site. In 2012, with the support of Contra Costa Behavioral Health Services, La Clínica opened the Oakley Specialty Mental Health Clinic. Originally housed within Oakley Medical, clinicians at Oakley Specialty Mental Health Clinic often had limited space to see clients. In early 2018, Vesper Society supported their move to a new site just across the street from their previous location, which allowed for more time and service offerings.
The new site, Casa de Luz (House of Light), was named in honor of the spirit that La Clínica's late Behavioral Health Director, Leslie Preston, brought to La Clínica's Behavioral Health Program and her instrumental role in establishing an independent site for Oakley Specialty Mental Health. Leslie was always a bright light to the clinic staff and the children and families of Oakley Specialty Mental Health, and over her nearly 20-year tenure at La Clínica, she was a strong advocate for improved policies that would better serve local and underserved populations.
Casa de Luz provides specialty mental health services in both English and Spanish and services include case management, outpatient mental health services, crisis intervention, and collateral services. Services mainly take place in the clinic office, but Oakley clinicians are also able to meet clients in their homes, schools, local churches, or in the community, as needed.
Casa de Luz has become a welcoming place for all. It has multiple rooms for client sessions and community spaces designed for children to play and families to be comfortable and at ease. It even features customized art work created by site supervisor Adeline Boye!
The Casa de Luz clinic is well known in Oakley, Brentwood, and Antioch schools and the Concord Family Justice Center. These strong relationships with local schools are important because schools often cannot provide the level of care that is needed, and youth have transportation barriers to accessing mental health services. La Clínica Oakley Specialty Mental Health even offers in-school care when needed. School psychologists, counselors, and teachers have reported marked positive changes in children as a result of mental health services. Since opening in 2012, the Oakley Specialty Mental Health program has provided services to over 1,000 youth and their families and hopes to serve many more in the years to come.
Vesper Society believes in a simple idea: a just society begins when everyone is well, and respected as a human being. By partnering with a local organization with a strong presence in Contra Costa County, Vesper Society has helped the community to help itself.