Historic Publications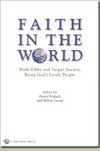 A global movement captured the imagination of Christians in the second half of the 20th century by declaring that the renewal of the church depended upon laypeople acting beyond the church walls—taking up their ministries in daily life amid the economic, political, and cultural structures of the world.
Among the movement's advocates was an unlikely prophet, a former English schoolmaster named Mark Gibbs, and his unusual partner, Vesper Society, a small network of Christian leaders who sought to use their professional skills for the betterment of the world. Their inspirational story is told in Faith in the World: Mark Gibbs and Vesper Society, Being God's Lively People. Co-authored by Nelvin Vos, Emeritus Professor of English at Muhlenberg College; Daniel Pryfogle, a journalist and leadership consultant; and Mel George, former president of St. Olaf College, Faith in the World provides a unique perspective on the past and future of the laity movement.
The book is available for purchase on Amazon.
"I am deeply grateful for this book. It tells a story that must be preserved. For me it is a very personal story, about a man and a movement that profoundly shaped my thinking about what it means to be the laos, the people of God. But it also contains an urgent challenge to the church at large, one that is too easily forgotten when we get bogged down in 'churchy' affairs: that the goal of all that we do as church is to nurture and equip all of God's people for serving the Lord in the complexities of our daily lives."
—Dr. Richard J. Mouw, President, Fuller Theological Seminary,
author of Praying at Burger King
Essays and Lectures By and About Mark Gibbs
In the Structures of the World, from the first edition of Vesper Exchange, 1970
The Development of Large-Scale Corporate Caring, written with Vesper Society co-founder Eugene Heckathorn, 1972
That the Good May Be Clever, Vesper Exchange, 1979
The Development of a Strong and Committed Laity, the first Audenshaw/Vesper Laity Lecture, 1981
No More Spiritual Babies: The Development of a Strong Laity, keynote address to the Lutheran Church in America's LAOS Theologians' Colloquium in New York City May 23, 1982
Mark Gibbs: One Friend's Perception, by Robert Brorby, September 1986