50th anniversary celebration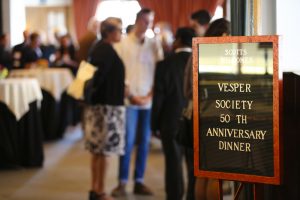 Vesper Society recently held its 50th anniversary dinner at Scott's Restaurant in Jack London Square, Oakland. Long-time friends, current board members, colleagues, and project partners gathered on a lovely summer afternoon to exchange hugs, greet new friends, and enjoy the camaraderie of fellow Vesper supporters.
Attendees spanned six generations – a result of Vesper's long history and varied pursuits – and we were all energized by a deep sense of continuity from past to present.
Highlights of the evening included Barbara Varenhorst reading statements from key individuals and supporters, and stories from Vesper's founding 50 years ago from Bob Brorby whose first-hand knowledge was inspiring to hear. I had the pleasure of walking everyone through our Vesper family photo album spanning half a century of pictures and memories.
Throughout the decades we have had the opportunity and privilege to partner with volunteers, community leaders, medical professionals, and lay persons who truly amaze us with their commitment to service. In whatever way you may have supported Vesper these past 50 years – Thank you!  You have helped light the way for many people and communities.
We invite you to view photographs from the celebration and we hope you enjoy the snapshots from this memorable evening.
Miyoko Oshima, President