Asian Health Services Fights Public Charge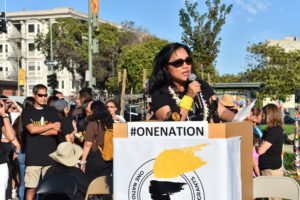 Vesper Society believes in a simple idea: a just society begins when everyone is well, and respected as a human being. Every day, we link arms with leaders of overlooked communities that want to create a healthy future and help them devise ways to do it. In today's political climate, that future depends on sound public policy that creates an environment where communities can thrive.
(Photo caption: Thu Quach, Asian Health Services' Chief Deputy of Administration, Programs, addresses One Nation rally.)
In July 2018, Vesper Society's Board of Directors visited Asian Health Services in Oakland, California. Asian Health Services is a federally-qualified health center that provides comprehensive health care to nearly 30,000 low-income Asian immigrant and refugee adults and youth in Alameda County. For Chief Executive Officer Sherry Hirota and her 500 staff who stand on the front lines – doctors, nurses, dentists, mental health clinicians, and many others – carrying out the organization's mission means fighting for justice in their patient's health care rights, regardless of immigration status.
During our visit, Vesper Society learned about the proposed changes to the Public Charge Rule that would impact immigrant communities. A Public Charge is a person who the Department of Homeland Security considers as someone who might rely on the government for support at any point in time. If you are labeled as a Public Charge, the Department of Homeland Security can deny your application for lawful permanent residence (a green card) or deny entry into the country.
While the current rule restricts the use of public benefits programs to cash assistance and long-term institutional care, the new rule would expand it to include food stamps, Medicaid, and housing assistance. This new rule would have chilling effects on low-income families.
It is estimated that between 1 and 3.2 million members of immigrant families would decline to use Medicaid, the vast majority of whom are Latino and Asian. About 1.8 million individuals would decline SNAP (Supplemental Nutrition Assistance Program) benefits and loss of housing benefits would worsen health outcomes, lower education attainment, and reduce income earning potential.
If the Public Charge Rule is enacted, Sherry Hirota foresees a wave of chaos and looming changes in national immigration policies. To address this potentially catastrophic problem, Asian Health Services has been spearheading a national movement of over 100 organizations serving Asian Americans Pacific Islanders and other immigrant communities to oppose the new Public Charge Rules. One Nation (www.onenationaapi.com) was launched in April 2019 to amplify the voices of those who will be impacted. Temporary relief is not enough for the patients of the Asian Health Services; they deserve sustainable solutions that improve the health of their communities.
On Friday October 11, 2019, three federal courts in New York, Washington, and California blocked the Public Charge Rule with preliminary sanctions. One judge wrote in his ruling, "The Rule…is repugnant to the American dream of the opportunity for prosperity and success through hard work and upward mobility."
At the end of October 2019, One Nation will release its powerful report reinforcing the narrative that this nation was built on the strength of immigrants. Please take time to read the report and act upon long-term solutions that will build healthy communities.
Vesper Society is proud to partner with organizations like Asian Health Services because together we are meaningfully improving the health and well-being of communities from the inside out.