California Lutheran University Interns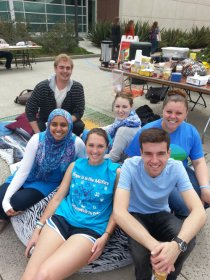 California Lutheran University (CLU) educates leaders for a global society who are strong in character and judgment, confident in their identity and vocation, and committed to service and justice.  Vesper Society knows that communities and institutions can be transformed when people are approached with respect, hope, passion, and inspiration.
CLU's Interfaith Allies presented an opportunity for Vesper Society to create the CLU intern program in memory of Vesper's co-founder Bob Cummings who served on the CLU Board of Regents.  Vesper's support made it possible for five students and three faculty members from CLU's Interfaith Allies to attend Interfaith Youth Core Leadership Institutes in 2012.  Since then, the program has blossomed.
Interfaith Allies values pluralism, tackles stereotypes, supports faith formation, and develops interfaith competencies for leadership.  Service learning, internships, off-campus study, and experiential education provide students with opportunities to build civic leadership skills.
Joining other universities in Water to Thrive's push to spread awareness about the global water crisis, CLU's water-wise campaign culminated with a weeklong challenge for students to track their water usage and consumption.  Participants only drank tap water and donated the money they would have spent on other beverages to build a well in Ethiopia.
By linking arms with student and faculty leaders at California Lutheran University, Vesper Society is part of a growing network that helps facilitate change to establish long-term solutions for overlooked communities all over the world.  Visit CLU Interfaith Allies' Facebook page here.