Clinic by the Bay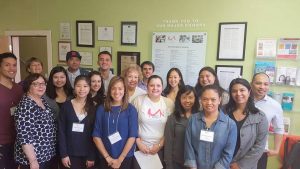 Vesper Society knows that improving the health of individuals improves the well-being of a community. So when Clinic by the Bay sought to add chronic disease services to their offerings in 2013, Vesper supported the effort.
Clinic by the Bay's mission is to understand and serve, with dignity and respect, the health and wellness needs of working uninsured adults. Every aspect of care at Clinic by the Bay is provided by dedicated volunteers with the support of a small team of staff who oversee clinic operations. The clinic, which does not receive government funding and does not accept insurance, is 100% supported by private foundations, business and individual gifts, plus in-kind contributions of professional services and supplies.
With a 'Culture of Caring,' patient appointments are 45 minutes, allowing more time to develop relationships with providers. Each new patient visit includes integrated medical, mental health, and dental screenings—a truly innovative approach for a community clinic setting.
After the implementation of the Affordable Care Act and the expansion of Medicaid in California, Clinic by the Bay had room for more patients and was able to expand its service area to include all of San Francisco and San Mateo Counties.
In 2018, Vesper Society began supporting Clinic by the Bay's behavioral health screening and access program which aims to significantly expand the number of patients who receive behavioral health screening and trauma-informed counseling. Funding also supports efforts to conduct outreach in the community to other providers and to schools in the area who will partner with Clinic to provide internship opportunities to counselors in training.
Like Vesper Society, Clinic by the Bay believes in the inherent worthiness and dignity of each person and is committed to showing kindness, respect, and patience in their approach. Together, Vesper Society and Clinic by the Bay are improving the health and well-being of youth and families in overlooked communities.