Clinicas Builds New Medical Facility in Imperial County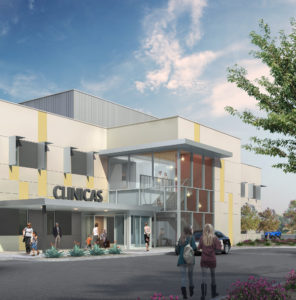 Vesper Society is committed to improving the health and well-being of communities. One way we do this is by supporting Clinicas de Salud del Pueblo.
Clinicas de Salud del Pueblo (Clinicas) was established in 1970 and is a Federally Qualified Health Center offering services at eleven clinics to everyone regardless of their ability to pay. This is a valuable service in the geographically-isolated Imperial County in California's vast southeastern desert where social and economic demographics create many barriers to healthcare. In particular, lack of transportation causes many patients to have difficulty getting to their appointments and often to miss their much-needed follow-up appointments, x-ray, or lab work at another location.
With a constant flow of bi-national agricultural workers, tourists, and residents crossing the nearby U.S./Mexico border daily, Clinicas' expertise lies in its ability to serve and treat a large Latino, primarily Spanish-speaking, mostly uninsured population. Their client base includes economically disadvantaged adults and youth, migrant and seasonal farm workers, and a population with high unemployment.
Vesper has provided Clinicas with support to establish a comprehensive pediatric asthma program, develop telemedicine services, and support their integrated behavioral health program.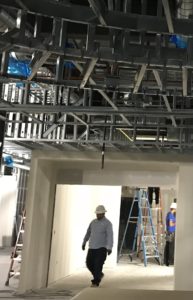 Clinicas serves a large community, and their current 12,000 square foot building is at capacity. Construction on a new 42,000 square foot medical facility—scheduled to open in December 2018—is currently underway in El Centro, California. The new state-of-the-art medical facility will be the largest in Imperial County and will expand Clinicas' medical, radiology, and behavioral departments, expand the training internship program, and add new services to include dental, pharmacy, and ophthalmology. A significant community benefit of the new facility is its ability to be a "one-stop shop," addressing many of the transportation barriers Clinicas clients face. The new facility will also serve as Clinicas' corporate headquarters.
Given its nature of migrant and seasonal labor, Imperial County has the highest unemployment rate in California. Clinicas' new facility will employ nearly 300 full-time employees, a significant contribution to the local economy in a county with the highest unemployment rate in California. (As of September 2016, the rate was 22.7% vs. 5.0% in the US overall.) Through comprehensive clinical and on-site training programs, Clinicas will also train over 25 interns/clinical health professionals annually at the El Centro location. Many will stay at Clinicas and within the region resulting in employment growth and greater access to healthcare jobs.
We at Vesper Society celebrate Clincas' accomplishment and their commitment to creating long-term solutions for the community. Together, we are one step closer to realizing the potential for healthy communities to thrive and prosper.