Clinicas de Salud del Pueblo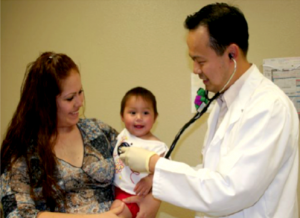 In the rural desert of southeast California's Imperial County, one in five children are affected by asthma—a percentage higher than the national average.
Thankfully, the community is home to Clinicas de Salud del Pueblo. Clinicas' mission is to improve the health and well-being of Imperial and East Riverside counties by providing direct access to affordable, comprehensive, quality primary and preventive health care for high-risk and underserved residents, all in a manner consistent with their dignity and identity.
Recognizing a community need, Vesper Society supported Clinicas in starting a comprehensive pediatric asthma program that includes asthma education, environmental assessments and remediation, chronic care coordination, and home visits by Community Health Workers or "Promotoras."
Vesper's funding support allowed Clinicas to continue their important work improving the health and well-being of Imperial and East Riverside Counties and enabled them to tackle the very important issue of pediatric asthma in the community.  Click here to read a summary of the Respira Sano Asthma Toolkit they developed and that is available for distribution.
In August 2015, with Vesper's support, Clinicas is developing telemedicine services, especially as part of their new integrated behavioral health program.
Impact
Leveraging the funding Vesper provided to start the comprehensive pediatric asthma program, Clinicas is part of a partnership awarded a $4 million Patient-Centered Outcomes Research Institute (PCORI) grant in 2013 to study asthma in Imperial County. Partners include San Diego State University and the Institute for Behavioral and Community Health, Comité Cívico del Valle, and a division of the state health department (California Breathing). The partnership will study factors such as how residents care for their health, how they use asthma medication, how they control things in and outside the home that cause asthma (known as environmental triggers), the quality of care received from health professionals, and air quality.
Clinicas' involvement in the partnership and the study is just one example of how Vesper's support leads to long-term solutions for healthier communities.