Connecting to Care Celebrates Ten Years of Telehealth Services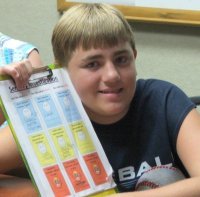 Vesper Society links arms with the leaders of overlooked communities to develop long-term solutions for a healthy future. One such leader, Connecting to Care, is celebrating their tenth anniversary this year. Connecting to Care, is a nonprofit TeleHealth Service Center whose mission is to fill gaps in health care service.
TeleHealth is a telecommunications technology that supports long-distance health care and health-related education. Currently located in Redding, California, Connecting to Care serves a variety of organizations including rural hospitals and clinics, regional centers, the Department of Rehabilitation, residential group homes, physicians and clinicians, speech-language pathologists, school districts, and physical therapists.
Connecting to Care implemented telehealth in 2009 in Northern California's rural and frontier communities where distances are vast, populations are often isolated, and health resources are limited. Lack of health and specialty providers is profound in the region, especially providers qualified to serve fragile dual diagnosis patients and developmentally disabled populations.
Over the past ten years, Connecting to Care has offered an integrated approach to the delivery of health care. Their spectrum of services includes: TelePsychiatry, Assistive Technology, TeleBehavioral Health, Comprehensive TeleDiabetes Education and Breast Cancer TeleNavigator Support Groups.
Funding from Vesper Society was instrumental in helping Connecting to Care establish a TeleBehavioral Health Program as well as a Comprehensive TeleDiabetes Education Program. These services had previously been unavailable to patients in remote clinical settings. Through our partnership, 98 percent of the participants in the TeleDiabetes Program successfully decreased their A1C levels and hospital readmissions.
Data they have collected clearly shows that individuals' health outcomes are strengthened through collaborative treatment plans versus treatment delivered in silos. For example, providing TelePsychiatry for medication stabilization in combination with Assistive Technology to increase communication skills has resulted in 100 percent of patients receiving both services, successfully reducing their psychotropic medications.
In 2018, Connecting to Care delivered a unique, proactive program that supported rural breast cancer survivors. In collaboration with the Cancer Prevention Institute of California and the California Breast Cancer Research Program, they recruited and trained volunteer breast cancer survivors to support underserved women who are newly diagnosed. This pilot TeleNavigator program utilized communication technology to help isolated patients navigate their way through and around barriers in the complex cancer care system.
Last year, the Centers for Disease Control suggested that one in 59 children have autism.  Connecting to Care has responded to the increase in the diagnosis and treatment of children with autism or autistic-spectrum disorders by providing Assistive Technology services in partnership with North State School Districts. The Assistive Technology program concentrates on helping patients improve their ability to communicate, and to access education, employment, and community in order to live more independently.
As pioneers in the field of TeleHealth, Connecting to Care remains true to their mission to monitor and respond to the health care service gaps in rural communities. They are committed to collaborating with community partners to improve the health and well-being of all individuals regardless of their economic status.
Vesper Society celebrates Connecting to Care's ten years of service to the rural communities of Northern California and their commitment to continue providing TeleHealth services to those with the most to gain. With long-term solutions in view, we are one step closer to realizing the potential for healthy communities to thrive and prosper.