Dedicated Volunteers Serve Clinic by the Bay Patients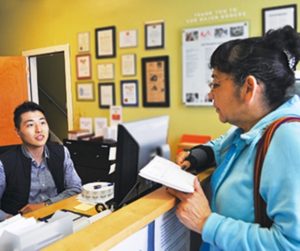 Vesper Society believes a just society begins when everyone is well and respected as human beings. Because of this belief, we're committed to improving the health and well-being of communities. One way we do this is by supporting Clinic by the Bay, a non-profit, free clinic, offering services to the working uninsured.
The mission of Clinic by the Bay is to serve the health and wellness needs of the medically underserved in the San Francisco Bay Area with dignity and respect. Their overarching goal is to improve access to healthcare for at risk communities while providing meaningful opportunities for volunteerism and civic engagement.
As one of nearly 100 Volunteers in Medicine (VIM) clinics across the country, they rely on volunteers to provide the services that keep the clinic running. The clinic has volunteers at every level – from reception to primary care physicians. They engage retired and practicing doctors, nurses, and non-medical volunteers to provide compassionate, high quality health care – free of charge. Clinic by the Bay is 100% supported by donations from private foundations, businesses, and individuals—plus in-kind contributions of professional services and supplies.
Two physicians describe their experience as volunteers working at the clinic serving the community's working uninsured:
"The Clinic is a welcoming, very collegial environment with wonderful supportive staff, and the opportunity to interact with other physicians coming from many different practices in the Bay Area. The rewards of working in a free clinic are great – and allow me as a physician to give back to the community and experience the joy of being a physician in a wonderful work environment."
– Nina Schwartz, MD, Rheumatology Specialist
"I wanted to give back on a very personal level. I also wanted to work in a clinic where there was no access to dermatology care, where I felt I could really make a difference. My first week at Clinic by the Bay, I saw a woman who had a previously undiagnosed autoimmune disease (Lupus) and was desperate for a diagnosis to explain her symptoms. Working hand in hand with the other physicians at Clinic by the Bay, we were able to start treatment very rapidly and alleviate her severe symptoms. She is currently in remission and leading a normal life."
– Kathleen Welsh, MD, Dermatology Specialist
Clinic by the Bay provides comprehensive primary and preventive health care services in English, Spanish, Chinese, Tagalog, and more. Through their medical partnerships, they connect patients with needed diagnostic, ancillary, and specialty services—either pro bono or at discounted rates. Regular health education for patients, providers, and community members focuses on nutrition, exercise, and other lifestyle interventions through their health coaching program. Vesper Society is proud to link arms with Clinic by the Bay and provide additional support to their mental health counseling program.
We at Vesper Society celebrate Clinic by the Bay's commitment to creating long-term solutions for their patients' health care needs. Together, we are one step closer to improving the health and well-being of youth and families in overlooked communities.