Expanding Healthcare Access in the African American Community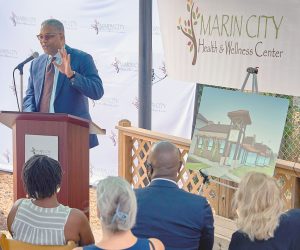 Every day Vesper Society links arms with leaders and communities to uplift through service, break down barriers, and elevate community voices. One year ago we welcomed our newest partner Marin City Health and Wellness Center and we took this opportunity to interview CEO Harold Wallace.
Can you tell us about the history of Marin City?
During World War II, the waterfront shipyards in Sausalito were used to produce Liberty Ships between 1942-1945. Thousands of workers migrated to the Bay Area to work in the shipyards, many of whom were African Americans from the South. After the war, they stayed because they could not move elsewhere due to restrictive racist covenants.
What kind of healthcare was available to Marin City residents?
Even though Neighborhood Health Centers were established in 1965 under the administration of President Lyndon Johnson, it wasn't until 2006 that the Marin City Health and Wellness Center (MCHWC) was established thanks to grassroots efforts. MCHWC has been operating out of a temporary clinic all these years.

We broke ground for a new clinic last September 2021 and expect it to be open in mid-2022. It will be the first time in 80 years that the community will have a viable comprehensive community health center. It is a travesty that the community has not had access to quality healthcare all these decades.
How are you expanding access to healthcare in the African American community?
In Marin City we are thrilled to put up a health center of substance that can provide excellent primary care. In addition, we are planning many wellness programs to ensure residents can lead healthy lifestyles. Later this year we will move into phase II of expanding the facility at MCHWC.
MCHWC has another clinic in the Bayview Hunters Point which has the highest percentage of African Americans in San Francisco. We are also exploring how to upgrade the clinic facilities and expand our services to provide better access to residents in Bayview Hunters Point and Visitacion Valley where there is no federally qualified health center.
How do you view the future of Marin City?
There's new leadership in the community, in the schools, new minister, and I joined MCHWC in October 2020. The pillars of prosperity are education, housing, jobs, healthcare. Marin City is a community that has strong family ties. I'm feeling good about the future of Marin City.
Vesper Society is proud to walk alongside partners like Marin City Health and Wellness Center. It brings us one step closer to our vision of a world that protects human dignity and enhances human potential.