FACES for the Future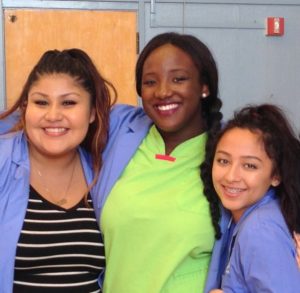 Vesper Society is committed to improving the well-being of youth. So, we link arms with leaders and organizations creating long-term solutions in their communities.
FACES for the Future at St. Rose Hospital in Hayward, CA, was founded in 2007 as a two-year program to motivate and prepare underrepresented youth for careers in the health industry. Partnering with the Eden Area Regional Occupations Program in Hayward, FACES provides high school students with unique opportunities to learn from healthcare professionals in various hospital settings and explore career options in the health professions. Students benefit from academic enrichment opportunities, including individualized tutoring and college preparation activities, leadership training, and multi-faceted psychosocial support services, including one-on-one case management. The program also assists FACES alumni with job and internship placements, academic and career guidance, and ongoing life coaching.
One of the program activities supported by Vesper Society was a retreat in December 2017. Students of the FACES for the Future-Hayward program had the opportunity to attend an overnight retreat in San Francisco. The retreat, offered in partnership with St. Rose Hospital Foundation, Vesper Society, San Francisco State University, and Vision Quilt, taught the students about public health issues and to develop their skills as advocates for their own communities.
Activities included a visit by students to San Francisco State University (SFSU) where they were welcomed by Dr. Leticia Marquez-Magana, Professor of Cell and Molecular Biology, and Director of the Health Equity Research Laboratory. Dr. Marquez-Magana taught them about the field of Public Health and got them thinking about the reality of health disparities and social determinants of health. The students completed exercises to understand how they can influence the decisions made at their own schools. They gained familiarity with the college campus and had an opportunity to participate in a mentoring session with SFSU undergraduate students pursuing various health professions.
The final session of the retreat was led by Vision Quilt, an organization dedicated to using art advocacy to prevent gun violence. FACES students created individual quilt panels based on their exposure to gun violence. This was an especially powerful workshop for students and—for many—the first time they opened up about their experiences. At the end of the retreat, FACES students felt empowered, inspired, and capable of sparking change in their communities.
Vesper Society supports FACES for the Future-Hayward at St. Rose Hospital because we believe that by serving youth, we establish long-term solutions and are one step closer to realizing the potential for healthy communities to thrive and prosper.