From ACEs to HOPE: First 5 Humboldt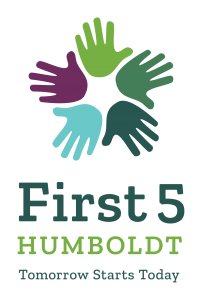 Vesper Society links arms with leaders and communities to uplift through service, break down barriers, and elevate community voices. As we emerge from the pandemic, we shine a light on First 5 Humboldt as they begin to weave together a new social fabric.
First 5 Humboldt is devoted to championing the rights and needs of their county's families. Together with the community, First 5 Humboldt's mission is to promote comprehensive, integrated systems of services for early childhood development in order to foster secure, healthy and loving children eager to learn and develop their full potential. They have done a remarkable job raising awareness in the community about the harmful impact of Adverse Childhood Experiences (ACEs) and toxic stress on children's life-long health.
The pandemic increased challenges for communities who have historically been marginalized by our systems.  It furthered the stress of systemic racism, poverty, community violence, and historical trauma. These were layered on top of the traditional ACEs: physical/emotional abuse and neglect; sexual abuse; incarceration of a parent; parental substance use disorder; and parental divorce.
Instead of being crushed by the situation, First 5 Humboldt adapted to meet the moment: they chose hope over despair to imagine the world they want to create.
The most effective buffers to toxic stress are positive relationships. Tufts Medical Center articulated a model that melds the science of adversity with the science of resilience: HOPE (Health Outcomes from Positive Experiences).
The four building blocks of the HOPE model are:
Relationships with other children and adults through interactive activities
Safe, equitable, stable, positive school and home environments
Sense of connectedness through social and civic activities
Opportunities for social emotional development, including playing with peers, self-reflection, and collaboration in art, physical activity, drama and music
This model weaves together the threads of First 5 Humboldt's work in ways that inspire us as we come out of the pandemic. In fact, with their new logo and tagline, they now have a new way to communicate their vision and bring the community together. From the image of a single child's hand to a gathering of five hands in different colors, the new logo visually represents the idea that solutions for the community must involve all members working together.
Rather than talk about investing in our future, First 5 Humboldt will be focused on sharing the belief that what we do today matters for the long-term well-being of Humboldt residents. "Tomorrow Starts Today" is a powerful message that will mobilize people to act.
With this renewed focus, First 5 Humboldt will be out and about during the summer, offering opportunities to safely connect with others in joyful ways during "Make the Moment Count" events:
Pastels in the Park for families
Sequoia Park Zoo Family Day, featuring the new Redwood Sky Walk
North Coast Music Together for children and families to sing and dance together
Summer Film Series with virtual viewing parties and an outdoor family movie night
Positive relationships are at the core of the community's health. This is the right moment to nurture the joy and hope of being together in community and strengthening the connections among those who call Humboldt home.
Vesper Society is proud to walk with First 5 Humboldt as they move from ACEs to HOPE; we are moving closer to our vision of a world that protects human dignity and enhances human potential.