Imperial Valley 4-H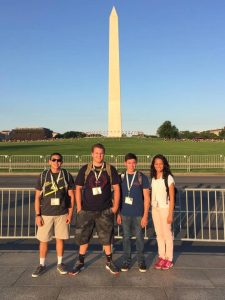 At Vesper Society, we are dedicated to long-term solutions that help communities help themselves. One example of this is the University of California Cooperative Extension's (UCCE) 4-H youth development program in Imperial County.
Around the world, 4-H encourages young people and adults to volunteer. Through service learning—a teaching and learning strategy that integrates meaningful community service with instruction and reflection—members learn civic responsibility and strengthen their communities.
4-H youth who excel in leadership and community service are selected to serve the 4-H Youth Development Program as a 4-H All Star—a leader among the organization. And Imperial Valley 4-H's five-day Team Camp Council program helps youth foster awareness and behavior change in areas related to environmental sustainability. Each day at camp, campers plan, develop, and implement projects related to land, air, energy, water, and food. In doing so, they take on the responsibilities of leadership when it comes to the environment, which is important to ensuring a healthy community.
4-H also provides leadership opportunities further from home. Last summer, four Imperial County 4-H members were selected to attend the 2015 Citizenship Washington Focus Conference in Chevy Chase, Maryland. At the conference, they had the opportunity to identify individual citizenship rights and responsibilities, identify issues facing youth and explore causes and possible solutions, and establish communication with lawmakers and witness government in action. Of particular interest to Imperial County, having the highest number of diabetics in California, local delegates worked collaboratively with San Diego State University-Calexico to initiate a healthy living workshop on diabetes for Imperial County Youth.
The 4-H Study of Positive Youth Development, conducted by the Institute for Applied Research in Youth Development at Tufts University, shows youth engaged with 4-H are:
Nearly two times more likely to get better grades in school
Nearly two times more likely to plan to go to college
41 percent less likely to engage in risky behaviors
25 percent more likely to positively contribute to their families and communities
Vesper Society recognizes the impact that nurturing leadership and service among youth can have on Imperial Valley's future. As part of our commitment to improve the health and well being of youth and to help communities to thrive and prosper, Vesper Society is supporting the expansion of UCCE's Imperial County 4-H All Stars Leadership and Team Camp Council programs.