Increased Access to Healthcare in Remote Humboldt County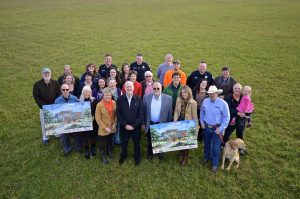 Vesper Society believes that a just society begins when everyone is well and that rural areas need more attention. So we support organizations like Open Door Community Health Centers to provide services to those who would otherwise have no access to healthcare.
Open Door Community Health Centers has been making a difference in Humboldt County for over 45 years. Humboldt County, tucked between the redwood-covered mountains of the Coastal Range and Trinity Alps to the south and east and the Pacific Ocean to the west, is two hundred miles north of the Bay Area and home to 130,000 people.
Being roughly the size of Connecticut, incredibly remote, and with challenging roads, access to quality healthcare has become an increasing concern as the population ages—both the patients and the doctors who settled in the area in the early 1970s and 1980s. Relocation and retirement have taken their toll, and recruitment of new providers is difficult. The healthcare practitioners who remain are stretched to capacity. Travel to the metropolitan areas of San Francisco and Sacramento is challenging, costly, and time-consuming. No one wants to take a six-hour drive to see the doctor if they don't have to, even if it is for specialty medical care.
Starting as a single clinic open to those who could not access the private sector, Open Door Community Health Centers has expanded and evolved into a comprehensive system of 12 clinics, and is now the largest provider of primary healthcare on the coast. In 2014, in response to the closure of two rural health centers in the agricultural heart of the County known as the Eel River Valley, Open Door stepped up where access to care was being hit the hardest. Open Door is building a new state-of-the-art health center in Fortuna set to open in 2017.
In August, Open Door Community Health Centers broke ground on this new health center. With Vesper Society's support, the new facility will offer team-based, integrated comprehensive services, include a dental center, and will be equipped with telemedicine equipment, allowing live visits between patients and specialists who may be hundreds of miles apart. This technology brings an incredible array of specialty care to isolated communities. "It is perfect for assessment and post-procedure follow-up. They can keep patients in the community, with their primary doctor, surrounded by their support network," said Willard Hunter, Open Door's Chief Medical Officer.
The Eel River Valley is a family-friendly place where people know one another and have a sense of their shared history and culture. In addition to the support from Vesper Society, the community has come together to donate nearly $5 million towards this new 31,000 square foot facility. In the face of overwhelming urbanization, Vesper Society cares about what happens in rural areas and is proud to support Open Door Community Health Centers new facility in Fortuna.