John Muir Community Health Alliance – Mobile Dental Clinic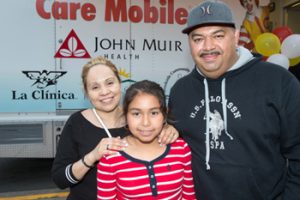 Contra Costa was in dire need of dental services for underserved and low-income communities. In response to that need, The Dental Collaborative of Contra Costa's Mobile Dental Clinic program has been providing free dental services for the region's youth since 2004. With Vesper Society's support, the Mobile Dental Clinic has provided 11,041 dental visits to 5,086 children. Additionally, over 47,000 children received oral health assessments in schools and community sites and over 25,000 received fluoride applications. Of the children the program serves in Contra Costa County, only 17 percent have insurance.
The Dental Collaborative of Contra Costa County is comprised of Contra Costa County Health Services, John Muir Community Health Alliance, Brookside Community Health Center, La Clínica de la Raza, and Ronald McDonald House Charities of the Bay Area in California. As the program celebrates ten years of service to the community, their 2014 focus is to provide dental services directly at school sites in West Contra Costa County, allowing children to miss less school while receiving dental care.
Vesper Society supported the Dental Collaborative's mission to provide access to high quality dental services, to improve health outcomes, and to link patients to a dental and medical home for ongoing care.