La Clínica Opens New Comprehensive Health Center in Vallejo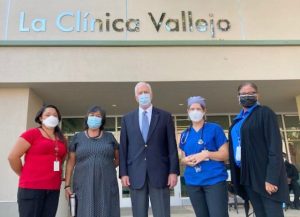 Vesper Society links arms with leaders and communities to uplift through service, break down barriers, and elevate community voices. We congratulate La Clínica on the opening of their new comprehensive health center in downtown Vallejo, which sits on the northeastern shore of San Pablo Bay in Solano County, 30 miles north of San Francisco.
The 26,000-square-foot facility has transformed the former JC Penney department store into a modernized health center to serve 13,000 patients with integrated services, including dental care and optometry services, all under one roof. This new facility will expand access to health care for residents who face the highest poverty levels and some of the worst health outcomes in the Bay Area.
As the only full-scope community health center in the city and the primary source of care for thousands of its residents, La Clínica is proud to be part of the solution to build a healthy and revitalized Vallejo for all.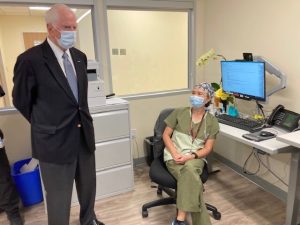 In 2020, La Clínica served nearly 37% of Vallejo's low income residents, 45% of its uninsured population, and nearly 26% of its Medi-Cal beneficiaries. By doubling La Clínica's previous capacity, community members will also have greater access to enrollment assistance for health insurance coverage as well as programs such as CalFresh and WIC.
Additionally, the new health center will help spur economic revitalization for the city by expanding foot traffic to local businesses and providing the community with 100 full time jobs at full capacity. This includes $7.8 million in wages and benefits distributed annually and more than $1 million of goods and services purchased annually.
About La Clínica
At the invitation of major healthcare providers such as Kaiser and Sutter Solano Medical Center, La Clínica has been present in Vallejo for nearly 20 years. In 2002, La Clínica took over a struggling health center in downtown Vallejo to ensure the community continued to have access to the health services they needed. In 2006, La Clínica opened its first dental clinic in the city with funding from Solano County. Today, La Clínica also operates a prenatal clinic, another medical site with urgent care, and a school-based dental clinic in Solano County.
La Clínica was founded in 1971 to improve the quality of life for communities by providing accessible health care for all. Today, La Clínica is the first choice for multilingual, full-scope health care services in the East Bay, regardless of a patient's income level or insurance status. They are proud to have matured into a leading health care institution renowned for providing culturally and linguistically appropriate services to diverse and medically underserved populations.
This year, La Clínica is celebrating 50 years of providing high quality health care for all. They are excited to continue serving their more than 91,500 patients—including at their newest health center in Vallejo—regardless of age, race, or income. La Clínica thanks its many donors and supporters, as well as their staff and community partners, for making this milestone a reality.
Vesper Society is proud to walk alongside La Clínica as we move towards our vision of a world that protects human dignity and enhances human potential.
To learn more about our medical services or to sign up for care, please call 707-556-8100.
To learn more about our dental services or to sign up for care, please call 707-558-2000.
To learn more about this new health center, please visit our website.