La Clínica Provides Essential Services to Oakland Students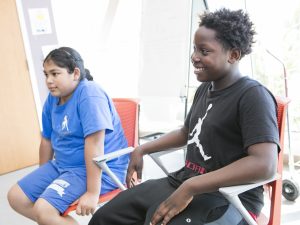 Vesper Society is committed to improving the health and well-being of youth and families. One way we do this is by supporting La Clinica de La Raza in Oakland, CA.
La Clinica de La Raza works to improve the quality of life of the diverse communities they serve by providing culturally appropriate, high-quality, and accessible health care for all. Their eight School Based Health Centers (SBHCs) enroll students in a variety of services to meet their varied health care needs. In addition, students receive comprehensive assessments and health education counseling and are taught about things like nutrition, healthy relations, and reproductive health. Beyond health care, youth are welcomed and trained in leadership and self-efficacy that supports their ongoing success. As a partner with the Alameda County Health Care Services Agency, La Clinica provides culturally and linguistically appropriate health services to over 5,700 children and youth annually.
Students visit the SBHCs for a variety of reasons: perhaps their grades have dropped, they have disclosed self-harm, or a physician has determined the patient is experiencing traumatic symptoms.
The SBHCs use a fully integrated clinical model that takes any path necessary to identify and address trauma and other behavioral health needs.
Many youth in East Oakland experience multiple and continuous traumas and stressors, including family trauma, stress of immigration, unstable housing, and the continuous trauma of community violence. As a result of these ongoing stressors, young people in this community are more susceptible to anxiety, depression and self-harm. To address this challenge, La Clinica opened the SBHC at Havenscourt in East Oakland 2011.
Vesper Society's support has allowed La Clinica to expand their services by hiring a full-time behavioral health clinician. The program is a huge success. Since 2014, almost one in six students has received behavioral health services at the SBHC, where the treatment model allows the clinician to work with students to develop coping mechanisms and support them in making progress towards concrete goals. Students are seen individually or as part of groups (including trauma groups, mindfulness groups and hip hop therapy) and, when needed, the clinician works with the students' family to connect students to long-term services in the community. The behavioral health clinician also works with students in classrooms and with teachers and administrators to ensure they understand trauma and its symptoms.
Vesper Society believes in a simple idea: a just society begins when everyone is well, and respected as a human being. By partnering with a local organization with a strong presence in East Oakland, Vesper Society has helped this community help itself.