La Clínica's behavioral health services having an impact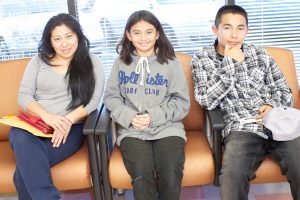 At Vesper Society, we believe that a healthy community is vital for a just society. For 45 years, La Clínica de La Raza (La Clínica) has been on the forefront of developing and delivering linguistically and culturally responsive health services to underserved communities in California's Alameda, Contra Costa, and Solano Counties.
In 2012, a survey showed that 67% of all clients at La Clínica, a non-profit Federally Qualified Health Center, are at risk of or show symptoms of depression, anxiety, sleep difficulties, domestic violence, substance abuse, and pain. Further, in East Contra Costa County, La Clínica Oakley's clients are predominantly Latino and either uninsured or insured by Medi-Cal, leaving them without access to services they need to treat these common ailments and issues. With funding and support from Vesper Society, La Clínica Oakley is addressing these challenges by integrating behavioral health into primary care.
One behavioral health provider explains why this work is so important. "Helping my clients make seemingly simple calls is such a huge burden lifted off their shoulders, linking them to appropriate resources, processing traumatic events like witnessing a family member being killed, helping people resolve marital discord, building someone's self-esteem, helping them overcome fears. It's so rewarding!" As of September 2016, the behavioral health program has logged over 1,100 appointments with La Clínica clients.
In another part of Northern California, La Clínica is improving the health and lives of students at East Oakland's school-based Havenscourt Health Center. In addition to the unique challenges that surface during adolescence, students here frequently experience stressors such as intergenerational poverty, neighborhood violence, and/or food insecurity. Each of these can have lasting and wide-ranging impacts on overall health and contribute to high rates of trauma, grief, stress, and anxiety.
As La Clínica's Havenscourt Health Center leads the way towards a healthier community, Vesper Society supports this integrated service model that delivers primary medical care, clinical and classroom based health education, dental care, and behavioral health services to students. An integrated behavioral health clinician works with students and families on goal setting, coping exercises, and building concrete skills to be successful and resilient. From January 2015 to September 2016, Havenscourt Health Center provided 195 middle and high school students with individual counseling and group counseling services.
La Clínica de La Raza's mission is to improve the quality of life of the diverse communities they serve by providing culturally appropriate, high-quality, and accessible health care for all. Vesper Society's support helped La Clínica introduce much-needed and often overlooked behavioral health services to its clients. With these long-term solutions in place, we are one step closer to realizing the potential for healthy communities to thrive and prosper.