Let's Stay Connected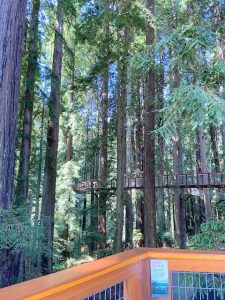 This photo of the Redwood Sky Walk was taken at the Sequoia Park Zoo in Eureka, Humboldt County. It is California's oldest zoo, founded in 1907.
"The Redwood Sky Walk is a self-guided interpretive experience designed to educate, inspire, and delight visitors. Learn about the rich hidden ecology of the world's tallest trees from an entirely new perspective."
Redwood tree roots are shallow and can extend up to 100 feet from the trunk. The roots intertwine with other roots, sometimes even fusing, and together form a root system that strengthens all the trees.
We chose this image for the holidays because of you – our program partners, friends, colleagues, fellow travelers on this journey we call life. We are grateful to be connected, for it grounds us and inspires us to keep moving forward.
These past two years have been so hard and we all had to dig deep into our emotional reserves. As a part of the Vesper community, do stay in touch with us, let us know how you're doing.
We wish you and your loved ones a healthy and joyous holiday season.
May the coming year be a good one.