Los Angeles United Methodist Urban Foundation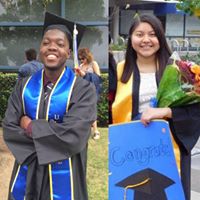 Vesper Society is committed to improving the well-being of youth. So, we link arms with leaders and organizations creating long-term solutions in their communities. One of our incredible partner organizations, the Los Angeles United Methodist Urban Foundation (Urban Foundation) encourages the efforts of other faith communities to find, embrace, and support overlooked youth and young adults who dream of attending college.
The Urban Foundation's Kid City Hope Place program recognizes the problem of educational inequity and severe economic hardship among the communities it serves in downtown and south central Los Angeles. With programs in leadership development, music and arts, college access, and college completion, Kid City provides mentoring, college knowledge, high-level math tutoring, and guidance through admissions and financial aid applications.
As a result, students are better able to access opportunities, explore their intellectual curiosity, and discover their ability to advocate for themselves and their communities. Teens and adults find their voice and become self-empowered leaders. The program has helped over 200 college students apply and enroll in college, and up to 50 high school juniors and 50 high school seniors are welcomed into the program every year.
Once in college, the commitment to community continues. Kid City's approach to college success is about more than just getting a diploma. It includes helping students through inevitable struggles, honoring a commitment to lifting up the community, getting the most out of educational opportunities, and becoming leaders, change agents, and contributing members of the world. By empowering each person to "take responsibility for the things they care about" (Kid City's definition of leadership), the benefits can be felt in communities long after a student has left the program.
Vesper Society supports The Urban Foundation's Kid City Hope Place program because we believe that by serving youth, we establish long-term solutions and are one step closer for realizing the potential for healthy communities to thrive and prosper.
Please visit Urban Foundation's website, and keep up with more current happenings on Facebook at Urban Foundation and Kid City Hope Place.