Mobile Dental Services Improve the Health and Well-Being of Youth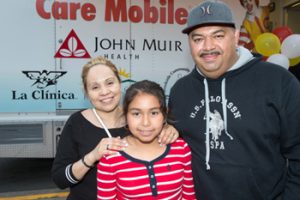 Vesper Society believes in a simple idea: a just society begins when everyone is well and everyone is respected as a human being. We look for creative ways to serve overlooked communities. We don't have prescribed formulas for solving complex social issues. We actively listen, we are flexible, and we adapt our approach to each situation so that every community we support receives what it really needs for maximum impact. One way we have done this is by supporting the work of the Mobile Dental Clinic serving Contra Costa County youth.
It is well understood that poor oral health can have a life-long impact on one's overall health. Yet many people lack access to quality dental care. This is especially true in communities of color, communities whose members often don't speak English, and low-income communities. Poor oral health can also prevent a child's success in school, and tooth decay is one of the most common chronic illnesses for school-age children.
In 2004, the Dental Collaborative of Contra Costa set out to improve children's oral health and encourage proper oral hygiene. The Dental Collaborative, a joint partnership between John Muir Health, La Clinica de La Raza, Lifelong Medical Care, and Contra Costa Public Health, provides free dental services to children and youth without insurance and those with limited access to dental services in Contra Costa County, California. For maximum flexibility and to better serve more community members, services are provided on a mobile dental clinic called the Ronald McDonald Care Mobile.
The Ronald McDonald Care Mobile provides services in elementary and middle schools, Head Start Centers, First 5 Centers, juvenile facilities, and other community sites. Dental services range from cleanings, fluorides, and sealants, to major restorative procedures. Over the past 13 years, the Mobile Dental Clinic has completed 14,807 visits, providing dental care to 6,537 children, dental education to 90,278 children, and dental assessments for 57,756 children, 40,000 of whom also received fluoride treatment. These services and programs have a lifelong impact on their health and well-being.
Many partners play important roles in providing these critical services. Supported by Ronald McDonald House Charities (RMHC), corporate donations, and funding support from Vesper Society, each partner provides a critical part of the service. Ronald McDonald House Charities (RMHC) provides the fully equipped mobile clinic. The County of Contra Costa provides screening and triage in low income schools. La Clinica de la Raza and Lifelong Medical Care provide the dental care, patient registration, and assistance with enrollment and connecting children and families with dental and medical services. John Muir Health provides program oversite and support. And financial support from Vesper Society has helped keep the mobile dental clinic rolling.
Vesper Society has supported the Mobile Dental Clinic because we believe that by serving youth, we establish long-term solutions and are one step closer to realizing the potential for healthy communities to thrive and prosper.