Modoc Medical Center Breaks Ground on New Hospital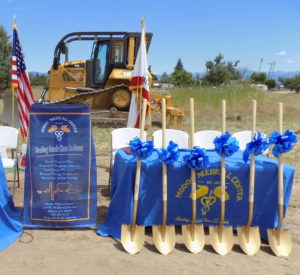 Vesper Society believes in a simple idea: a just society begins when everyone is well. To improve the health and well-being of a community, we partner with community hospitals and clinics and support their programs.
Located in the rural northeastern portion of California, Modoc Medical Center (MMC) serves the residents of Alturas and the surrounding area, covering about 4,500 square miles. The geographic reach of the hospital district is significant, and MMC represents the only local option for hospital services in their frontier community.
Vesper supports MMC's efforts to provide telehealth services for residents in this remote area and has funded care coordinators focused on reducing health disparities within the community related to socio-economic makeup and age-related chronic conditions of patients.
We celebrate MMC on their new facility project that will replace their current hospital. Many community members, hospital staff, hospital partners, and collaborating agencies attended the June 2018 groundbreaking ceremony and celebration.
The new hospital will replace the current hospital, built in 1949, that is located within the 100-year flood plain. It will be seismically compliant and designed to accommodate effective and efficient delivery of healthcare.
The new facility will be 47,000 square feet and will include an eight-bed critical access hospital, operating room, emergency room, hospital pharmacy, radiology department, laboratory, clinic, retail pharmacy, ambulance garage, maintenance shop, and space for support services and administrative offices.
The project will unfold in two phases: Phase I, preliminary site work, is underway and will be completed in Fall 2018. Modoc Medical Center CEO Kevin Kramer shared that they are excited to work with White Bear Construction on Phase I and that using local resources is important to the administration.
Phase II will begin in Spring 2019 with Swinerton Builders beginning construction. The anticipated completion date is Fall 2020, and MMC plans to occupy the new facility by early 2021.
We at Vesper Society congratulate Modoc Medical Center on this accomplishment and on their commitment to creating long-term solutions for the community. Together, we are one step closer to realizing the potential for healthy communities to thrive and prosper.