Open Door Celebrates New Facility Grand Opening in Fortuna, CA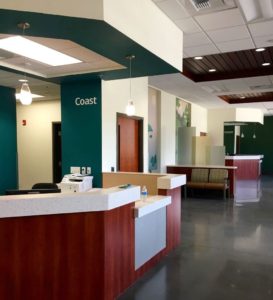 Every day, Vesper Society links arms with leaders who are working to improve the health of their communities.
One such leader, Open Door Community Health Centers, brings a proven model of sustainable healthcare, opportunity, and access to healthcare to the Eel River Valley, a picturesque community in the southern part of rural Humboldt County, California. Forty-seven years after opening its first clinic, Open Door now has 13 health centers and three mobile vans and employs over 650 people. Many of the natural resource-based businesses in the Eel River Valley—the cornerstone of its economy—have closed. As a result, professionals, including medical providers, have relocated to find employment in urban areas. Healthcare access has become a real challenge for the community with limited options, facilities located far from home, and specialty services like dental and behavioral health nearly impossible to find locally.
Open Door provides a primary care family doctor to more than one-third of the county's population. And Open Door's focus on the continuum of care, from illness prevention and health maintenance to disease management and treatment, improves patient and community health and attracts providers to the area.
With continued support from Vesper Society, Open Door has opened a new 32,000 square foot community health, dental, and behavioral health center in Fortuna. After nearly five years of planning and construction, the new, state-of-the-art medical facility has helped recruit and retain healthcare providers and has been a boost to the overall quality of life in the area.
Families, employers, and retirees are all feeling more hopeful now that there are increased health services available in the community. "We almost felt forgotten here in Fortuna. The long-term doctors were moving away, and nobody was replacing them. I have not had a primary care doctor for the past four years. Now I do have a doctor and feel much more apt to stay and retire here, because Open Door is here and is taking new patients," said one patient sitting in the bright waiting room that looks out over green hills and the area's native Redwood trees.
The new facility has 32 medical exam rooms and features three medical teams. Each team includes a full-time medical provider, a registered nurse, medical assistants, care coordinators, and behavioral health navigators. Each team has three examination rooms and a separate consultation room for hand-offs between team members or for private telemedicine consultations. The facility includes seven dental operatories and three beautifully designed behavioral health rooms. When fully staffed, the clinic will be able to accommodate up to 180 patients per day.
Vesper Society is joined by hundreds of individual community members, businesses, and foundations in celebrating Open Door's commitment to the health of their community. Open Door is proof that a community can work together to bring about lasting change.