Over 25 Years of Medical Volunteers Serving Local Needs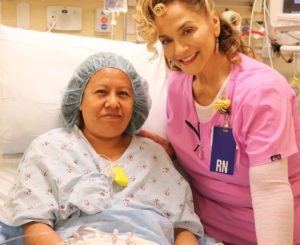 Every day, Vesper Society links arms with leaders who are working to improve the health of their communities. One such leader, Operation Access recently celebrated their twenty-fifth anniversary with a year of double digit growth in donated services. Operation Access matches doctors and nurses who volunteer to serve people who cannot afford the surgical and specialty health care they need.
By leveraging surgical volunteers and partners to restore the health of uninsured and underserved people living in Northern California, Operation Access provides a critical service for immigrants who cannot qualify for affordable health insurance. Operation Access, its medical volunteers, and partners unify the community in support of human dignity for all, regardless of place of birth or financial means.
Funding from Vesper Society was instrumental in developing Operation Access' partnerships and services in East Contra Costa County, an area of particularly high need. Community clinics like La Clínica de La Raza and Clinic by the Bay rely on referrals to Operation Access to get patients the surgical and specialty care they need.
In the past two years, referrals to the program have increased by 40%. Operation Access met the increase in demand by providing a record volume of care. In the last 12 months, 1,435 people living in 15 Northern California counties received 1,940 donated surgical procedures and diagnostic services, valued at over $25 million.
By serving patients who face inequality because of their immigration status, race, language, ethnicity, and limited income, Operation Access' volunteers seek justice on their behalf by alleviating some of the emotional impact on those who are sick but cannot afford care. Many patients express that the care they receive results in improved quality of life both mentally and physically.
"Operation Access has wonderful volunteers with beautiful hearts who give their time to help people who need it. Thank you everyone who makes this program possible!" – Javier
"I am very thankful and appreciative that the surgery and hearing aids were donated. It's nice to hear my children and understand what they are saying. Now I am able to truly listen to them and be there for them when they need me." – Angela
"My life is full of joy again. I feel rested, I can breathe, and my appetite is back. I have even gained some weight since the surgery; I think it's because everything smells and tastes so good." – Jose
Vesper Society celebrates Operation Access' 25 years of service to the community and their commitment to continue providing health services to the underserved. With long-term solutions like these in view, we are one step closer to realizing the potential for healthy communities to thrive and prosper.