Remembering George Spindt (1920-2016)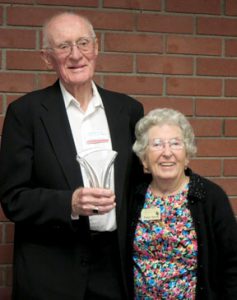 To make a contribution in the world: This was George Spindt's desire across his almost 70 years of ministry. In Vesper Society, where he served as an executive and board member, he found kindred spirits who shared his ambition.
Born on June 21, 1920, George grew up in Pasadena and attended Trinity Lutheran Church where he assisted the pastor with worship alongside Vesper Society cofounder Bob Cummings.
In 1949, George went to Germany as director of a refugee resettlement for the Lutheran World Federation where he was immersed in the challenges of post-war Europe and the role of the church in building a new society. George returned to the U.S. in 1951 and led churches in Tucson, Arizona, and Van Nuys, California.
A tragic 1957 midday plane crash on a junior high school playing field in the Southern California community of Pacoima highlighted the need for a local hospital. A group of congregations mobilized to launch Pacoima Memorial Lutheran Hospital and George served on the hospital's board.  It was this connection that led to the eventual sale of San Leandro Memorial Lutheran Hospital to Vesper Society.
In 1963, George became pastor of Messiah Lutheran Church in Redwood City, California. After Pacoima Memorial purchased San Leandro Memorial, George became a point of contact for the troubled venture in Northern California. George had stayed in contact with Bob Cummings who was now in real estate development and was providing management consulting services with a mutual friend, Gene Heckathorn.
After Gene and Bob founded Vesper Society in 1965, George connected them with San Leandro Memorial's banker, and in 1966 Vesper Society took over formal management of San Leandro Memorial Hospital. Gene and Bob regarded the hospital as a laboratory for lay leaders to work out their vocation in the world.  And George was right in the midst of the experiment.
George returned to Europe in 1969 to explore how Vesper Society might intersect with the emerging laity movement there. George met a prominent leader in this movement, British author Mark Gibbs, and again George used his gift of weaving webs of relationships to connect Gene and Bob with Mark Gibbs to create lively communications and articles on the worldwide laity movement.
After Gene's death in 1973, George took on a larger role in Vesper Society. He was appointed executive director in 1975 and served in that capacity until 1985.
It was a busy decade for George and the organization. Vesper Society acquired a second hospital in nearby Hayward, built a dental clinic in Jamaica, and recruited doctors and nurses to volunteer around the globe.  The organization launched one of the first hospice programs in the U.S. and got into home care and child care while continuing to foster dialogue among leaders in the church, business, and academia.
Describing the prospects of Vesper Society in 1979, George underscored the organization's unique perspective while summing up his own vocation. "It seems to me that the Vesper 'mix' of ethical insights combined with a firm realism will be helpful and attractive to many of our fellow citizens in the rather rugged years that lie ahead…."
Following his retirement, George returned to Vesper Society in 1995 as a board member and served until 2013 when the board of directors held a special dinner at California Lutheran University honoring George's many years of service.
A master storyteller, George kept Vesper Society close to its roots. As Vesper Society president Miyoko Oshima says, "It's a lovely role that he played.  George is truly a product of the Greatest Generation."
George Spindt died on Easter Sunday, March 27, 2016. A memorial service will be held on April 5, 2016, at Holy Trinity Lutheran Church in Thousand Oaks, CA.