Remembering Robert Brorby (1925-2018)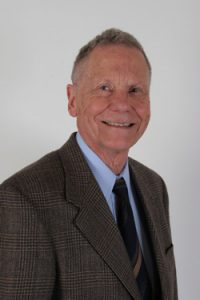 To live out a vision of vocation where lay people actively shape the social implications of their faith: This is how Bob Brorby lived his life.
Following graduation from the School of Law (Boalt Hall) of the University of California at Berkeley in 1951, Bob practiced civil litigation for 47 years.  That was his profession.  His vocation was to relate the social concepts of his Christian faith not simply to his professional life but to the whole of life.  The Lutheran Church and Vesper Society became the vehicles for that deeper and wider engagement.
Bob's commitment to the institutional church included service at the local, regional and national levels.  He worshipped at Grace Lutheran Church in Richmond, California for 56 years, where he sang in the choir and served on the church council and in other ways.  He served 24 years on the board of directors of Pacific Lutheran Theological Seminary where he chaired the board during the 1970s.  Bob served on the Executive Board of the Pacific Southwest Synod of the Lutheran Church in America and the Executive Council of the national denomination and he served on the Commission for a New Lutheran Church which formed the current Evangelical Lutheran Church in America.
However, it was through Vesper Society that Bob's primary interest – the ministry of the laity in daily life – was most satisfied.  "It allowed me to get outside of my workday world and really be a part of trying to effect policy in government and institutions," he said.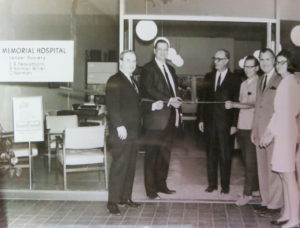 Bob crossed paths with the two late Vesper co-founders, Gene Heckathorn and Bob Cummings, long before 1965 when they came up with the idea of Vesper Society – a concept and network that would involve a community of lay persons dedicated to apply their financial and management skills to the social institutions of the church.
In early 1966 Vesper Society acquired its first hospital in San Leandro, CA and Bob was elected to the board of directors in 1967.  From the beginning, the hospital was a springboard to develop the potential of lay people.  Vesper's interests went beyond hospital management and that broader focus was the catalyst for Bob's continued involvement.  "Vesper Society was interested in doing things that I wanted to participate in," he said.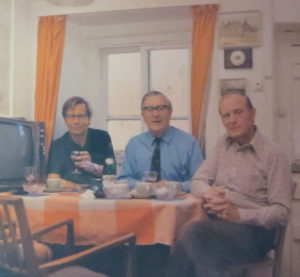 In the 1970's British lay leader and author Mark Gibbs was the founding editor of the Vesper Exchange that focused on ethical and moral issues in healthcare, and the Laity Exchange that explored ministry in daily life.  Together with the Protestant Academies of Germany, Vesper addressed political, economic, and social issues involving Europe and the United States as well as Cold War issues involving the former Soviet Union.  Bob was actively engaged in all of these programs.
Vesper sold its two hospitals in 1984 and used the proceeds to establish a network of nonprofit corporations: Vesper Society Group, Vesper International, and Vesper USA.  Bob Brorby chaired the board of directors of Vesper International from 1987-1992.
During those years Bob represented Vesper at conferences and meetings in Central America that focused on bringing peace to a region torn by civil war.  In 1990 Vesper convened roundtable discussions among leaders from across the political spectrum in El Salvador that made a significant impact on the peace process.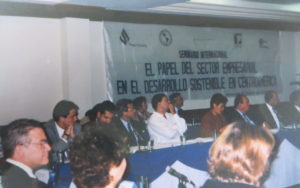 Vesper's mission at that time was to create opportunities for individuals and institutions to apply moral and ethical values in decision-making on critical social and economic issues. Bob enthusiastically promoted Vesper's social justice vision to create a compassionate world that protects human dignity and enhances human potential.
At Vesper's 50th anniversary banquet in July 2015, Bob said that the programs after the hospital years have had their seasons and are now memories, and specific programs will continue to change.   But Vesper's values will always remain constant: the "efficient and humane management" of charitable institutions; the inculcation of moral and ethical values to address social issues; and vocation that is rooted in "to love one's neighbor as a child of God and as one's self." The goal of all this is to achieve justice, particularly for the benefit of the underserved.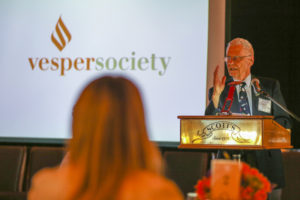 Bob was intimately connected with Vesper Society for 48 years.  He served on the hospital board of directors for eleven years; he was chair of the board of directors of Vesper International and Vesper Society.  Bob became a Corporate Member in 1967, served as chair of the Corporate Members for many years and became Corporate Member Emeritus in 2015.
On the occasion of Bob's retirement from the Vesper Society board of directors in 2006 after almost forty years of leadership, Vesper dedicated a book to Bob Brorby who quoted Mark Gibbs in a tribute after Gibbs' death: "[W]e must hold to the great truth that God calls us…in everything we do…. Nothing is exempt, until the hour of our death."
Bob has always expressed gratitude for the vision of his friends who founded Vesper Society and for the opportunity to be involved over the years. He said "It was a great ride." It is now our turn to thank Bob for his inspirational dedication and service to Vesper Society.
Bob died on August 26, 2018, after a brief battle with lymphoma. His memorial service will be held at 11:00 am on September 29 at University Lutheran Chapel in Berkeley, CA.