Remembering Secretary Norman Y. Mineta (1931-2022)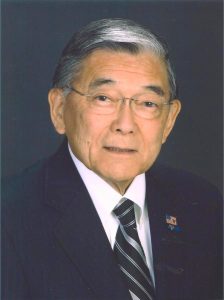 Vesper Society believes a just society begins when everyone is well and respected as a human being. Every day we link arms with leaders to uplift through service, break down barriers, and elevate community voices. In doing so, we are closer to a vision of a world that protects human dignity and enhances human potential.
During this Asian Pacific Islander Heritage month, we lift up the life of an amazing public servant, Norman Mineta, who overcame racial barriers to become mayor of San Jose in 1971 and who served in Congress from 1975-1995. He died on May 3, 2022, at age 90.
We post part of a press release by Asian Pacific Islander American Vote (APIAVote), a nonprofit that received a donation from the Vesper Board of Directors Board Designated Fund.
"We are heartbroken about the passing of Secretary Norman Y. Mineta. He was a political giant not only for all Americans but especially in the Asian American and Pacific Islander (AAPI) communities, motivating and mentoring generations of AAPIs to get involved and make a difference."
"Many Americans will remember Secretary Mineta for his calm, competent, and unprecedented response to 9/11, his leadership in the creation of the Transportation Security Administration, and his stewardship of the legislation that helped victims of Japanese American internment camps receive reparations. For many of us he will also be remembered as a founding father of the ecosystem that created many AAPI advocacy organizations that exist today – including APIAVote."
"Secretary Mineta leaves behind a big hole not only in our communities and in our hearts, but within the political world. As a true bastion of bipartisanship, he represents what is missing in today's politics. As he once said, 'there are no Democratic or Republican bridges.' Secretary Mineta worked across the aisle to empower and uplift all Americans – no matter their creed. He served as a Secretary in both the Clinton and Bush administrations and was awarded the Medal of Freedom by President George W. Bush for his exemplary service.  We will cherish and honor his legacy for years to come, and we hope we can give his life's work justice. We will be keeping his family and friends in our thoughts and prayers during this time."