Street Level Health Project responds to COVID-19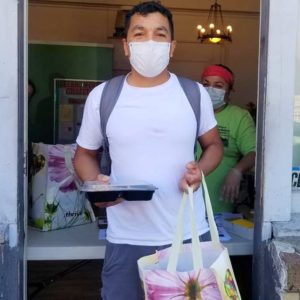 Vesper Society believes a just society begins when everyone is well and respected as a human being.  We have linked arms with the leaders of Street Level Health Project to create a healthier, more sustainable future for migrant communities in Oakland, California.
Street Level Health Project is an Oakland-based grassroots organization whose mission is to improve the health and well-being of urban immigrant communities in the Bay Area.  Since 2002, they have been responsive to the needs of day laborers, low-income to no-income, uninsured, under-insured, and recently arrived immigrants.  Many day laborers have no social safety net to fall back on, and Street Level Health Project provides an array of vital resources to the immigrant community.
The circumstances of COVID-19 have exacerbated the well-being of day laborers in California.  Due to the nature of their work, issues of food insecurity, intensified health issues such as chronic illness, anxiety, and depression are on the rise in the immigrant community.  During the beginning of the shelter in place that began in Alameda County on March 17, workers reported that jobs decreased by as much as 90% at the six hiring sites throughout Oakland.
In Alameda County, COVID-19 is impacting people of color the most.  Street Level Health Project is located in zip code 94601, Fruitvale which has the highest number of cases in the county, particularly among Black, Brown, and Indigenous communities.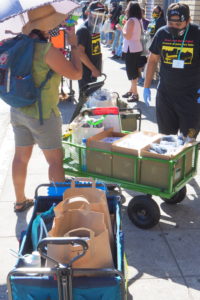 As a grassroots organization, Street Level Health Project has been guided by the community's needs.  The organization immediately pivoted its programming to create a support hotline that fields calls. They have conducted community outreach and wellness checks for over 600 community members. Staff and volunteers distributed food bags, reusable masks, sanitization resources, diapers, hot meals, clothes and other essentials on a weekly basis. Over 2,421 support bags have been distributed to day laborers and their families at this time.
Vesper Society is honored to stand side by side with Street Level Health Project as they provide ongoing mental health services.  Their counselors provide a holistic approach to care and many have reported that without their services and someone to talk to about what they are going through, they don't know what they would have done.
Collaborations are key to reach the most vulnerable at this time. Street Level Health Project has formally partnered with La Clinica de la Raza and Native American Health Center to support testing efforts. Street Level Health Project has created a temporary COVID-19 Response Team that consists of five trilingual Mam speaking college students who are conducting outreach, translation, and contact tracing for the Mam (indigenous Guatemalan) community.
Due to the lack of jobs, Street Level Health Project started a fund to provide cash assistance to day laborers and their families. Through the support of donors, including Vesper Society, they were able to raise $116,000!  Each worker received $300, an essential gift during this difficult time.
One worker said, "If I don't die from the virus, the lack of work will finish the job." The pandemic has made clear the urgent need for migrant justice.  This moment forces us to build a new vision of collective care that ensures low wage and immigrant workers are not left behind.
Vesper Society is proud to stand with Street Level Health Project as they develop long-term solutions to improve the health and well-being of migrant families during COVID-19 and beyond.