Strengthening Youth Voices in the Imperial Valley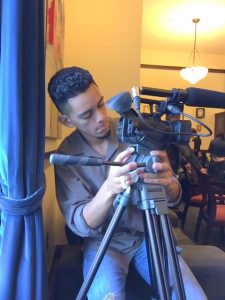 Vesper Society is dedicated to long-term solutions that help communities help themselves. In the Imperial Valley, Vesper Society partners with Renaissance Journalism to empower youth to tell their own stories, in their own voices, as a way to visualize a better future and promote positive social change.
(At Left: Adalberto Lopez, Brawley Union High School, sets up video camera.)
At its first Youth Voices Digital Institute this June, 10 high school students traveled 600 miles north to take part in a week-long crash course in multi-media journalism at San Francisco State University. Most of the students are of Latino heritage, so the program is designed to help them recognize the value of their cultural backgrounds and to utilize the bilingual reality that exists in the Imperial Valley.
The students were sent out on assignments, such as interviewing San Francisco Supervisor David Campos, covering an Oakland A's baseball game and meeting with the staff of El Tecolote, a bilingual newspaper serving the Mission District. Their 12-hour days were jam-packed with video lessons, interviews with community leaders, daily deadlines and countless hours of computer work to produce stories about their experiences.
By the end of the week, each of the students produced a video story about their experiences. The stories were screened during an emotional graduation ceremony that was broadcast over the Internet so that their families and friends could watch from their homes in Imperial County.
With this intensive experience under their belts, the students can return to their respective schools and help teach other students the power of storytelling. Local journalists will continue to work with the students.
As the program progresses during the regular school term, you can expect more students to start posting their stories. Young people will actively engage their community with new communications tools that can advance the causes that uplift their families, neighborhoods and the Imperial Valley, an outcome that is at the heart of Vesper Society's work.