The Spirit of Renewal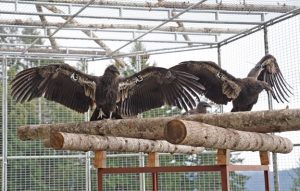 Vesper Society believes a just society begins when everyone is well and respected as a human being. We also understand that our well-being is deeply connected to the health of our planet. In Humboldt County, the Yurok Tribe has been working for the past 14 years to restore the condor to its ancestral home, 100 years after it was poached, poisoned, and decimated.
[Photo credit: Time-Standard March 31, 2022, Courtesy of Matt Mais/Yurok Tribe]
We celebrate the milestone return of  four California condors to the Redwood National Park this month. We lift up the voices of Yurok Tribal leaders as they talk about the significance of this moment.
'The Spirit of Renewal': Yurok Tribe, Parks Official Prep for California Condor Release, By Mario Cortez, Times-Standard, Eureka, CA April 12, 2022
Yurok Chairman Joseph L. James spoke about the importance of the California condor, known in the Yurok language as "prey-go-neesh" and its return to the region.
"It is a beautiful day, a blessed day, an exciting day for the tribal government," James said. "We use our condors in our ceremonies and use our condors and our prayers to uplift us again as we dance in our high country. Everything is about balance…. They'll be flying back above the sky, providing that balance for us as Indigenous people."
Yurok Tribe Member Tiana Williams-Claussen heads the Yurok Wildlife Department and is a culture bearer. She has spent her professional career working to restore the condors' presence in Yurok lands and skies.
"Condors are actually the largest land-based bird in North America with a wingspan of nine-and-a-half feet and serve a vital function as a scavenger, exemplifying that spirit of renewal by going across the landscape and cleaning up the environment in a way that humans or even other scavengers can't do," Williams-Claussen said.
"They were driven from the area quite a while ago, so we made the decision as a tribe, as a people, our tribal task force, which was a panel of our elders specifically designated to prioritize cultural and natural resource restoration, they decided prey-go-neesh was the single most important land-based species to bring back to Yurok country because of his great importance to our region, culturally and ecologically."
Yurok Tribe vice chairman Frankie Myers spoke about the magnitude of the condor release and the work between government agencies to make this happen.
"The tribal government was formed to fulfill these purposes, to connect our culture, our people, to be able to protect a river or animals or way of life… This is the fulfillment of a dream of our grandparents and our parents and what it took to get here," the Yurok vice chairman said. "I think this also exemplifies what amazing work can be done with tribal governments, state governments, federal governments, and NGOs can accomplish when we work toward a common goal."
For the full article, go to 'The spirit of renewal': Yurok Tribe, Parks officials prep for California condor release – Times-Standard