The Urban Foundation's annual "Ultreya!" celebrates college graduates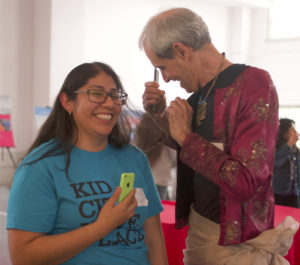 Vesper Society is committed to improving the well-being of youth.
As a child in a single-parent household, Rodrigo Gonzalez wanted to get a job to help his mother pay rent. He was too young to work, so his dream was to graduate from college, get a job, and buy his mother a house so that she would no longer have to over work. Sadly, Rodrigo's mother passed away during his senior year in high school. Rodrigo's plans could have crumbled.
(Photo caption:  Kid City alumna Frances Melchor (UCLA, 2017) with honoree and VIP volunteer Herley Jim Bowling. Photo by Ashley Kruythoff.)
Thankfully, the Los Angeles United Methodist Urban Foundation's Kid City Hope Place program (Kid City) recognizes the problem of educational inequity and severe economic hardship among the communities it serves in downtown and south central Los Angeles. With programs in leadership development, music and arts, college access, and college completion, Kid City provides mentoring, college knowledge, high-level math tutoring, and guidance through admissions and financial aid applications.
With support from Kid City, friends, and family, Rodrigo says he "managed to go through the pain and continue hitting the books. I was also able to finish my college applications during that time. I never gave up because I want to honor my mom. The way she had to struggle on a daily basis taught me to never give up." Rodrigo graduated from California State University, Northridge in May 2018.
Graduations are family events. The first-generation college-bound and college-going students at Kid City Hope Place refer to the program as a "second home" or "second family," so it's natural to mark their college graduations with ceremony and celebration, and to offer words of encouragement and wisdom.
The Urban Foundation's annual "Ultreya!" celebration honors the difficult journey traveled by Kid City's first generation college students. These students experience financial shortages, physical and mental stress, lack of transportation, housing, and increasingly, even lack of food.
"Ultreya," is the word pilgrims on Spain's "Camino de Santiago" call to each other for extra support on long hikes and challenging slopes. It means "Take heart! Onward! You can do this!" At "Ultreya!" graduates like Rodrigo share their struggles and encourage others on the same path. The road is long and has many challenging obstacles. The Kid City community encourages, bolsters, loves, and supports each other along the way.
Rodrigo shared that the moment he found out Kid City was more than just a college program was on a car ride back home from a California State University, Northridge visit with Kid City college advisors. "I was uncertain about my major.  Through our conversation, they encouraged me to do what was best for me, with no judgment. Now, I'm a Global Supply Chain Management major. My goal is to work with innovative technologies like the cloud and the internet." Rodrigo is on his way to a successful career that will support him and his family.
Vesper Society supports The Urban Foundation's Kid City Hope Place program because we believe that by serving youth, we establish long-term solutions and are one step closer to realizing the potential for healthy communities to thrive and prosper.