United Indian Health Services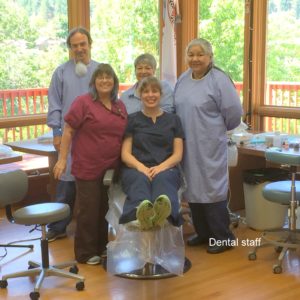 Vesper Society believes that a just society begins when everyone is well and that rural areas need more attention. We support organizations like United Indian Health Services which has been providing comprehensive healthcare to Native American communities in remote Northwest California for over 40 years.
Recognizing a medical need not met by their current offerings, UIHS goes above and beyond to provide dental services. Twice a year, staff members pack up dental chairs, equipment, and computer and drive a narrow two-lane road through the mountains to set up shop at Libby Nix Community Center in Weitchpec. They live there for two weeks, providing much-needed dental services like exams, fillings, extractions, cleanings, and oral hygiene instruction.
Tribal government leaders keenly understand the oral health crisis in their communities, and UIHS is working closely with the tribes to provide more consistent and comprehensive dental services to this community. Vesper supports UIHS efforts to build two dental clinics in the area.
The Yurok Tribe declared a state of emergency in response to a series of suicides in 2015. UIHS filled a gap in mental health services at the elementary school level in response to this situation. When the state of emergency came to a close in February 2018, Vesper Society funding enabled UHIS to continue providing a culturally-based behavioral health services program for youth in the Weitchpec area.