Vesper Society Honors 500 Years of Protestant Reformation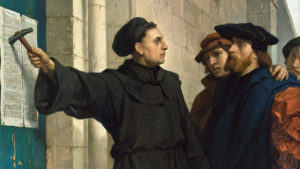 500 years ago, Martin Luther's 95 Theses critiquing the Catholic Church shook the world and resulted in the beginning of Protestant Reformation. As we commemorate this significant event, we also honor and appreciate that we live in vastly different times. Lutheran and Catholic Christians now seek out commonalities that overcome past church-dividing differences, and we are telling this history in new ways. Today, our world is more varied and secular.
Vesper Society—with deep roots in the Lutheran tradition—believes in a simple idea: a just society begins when everyone is well and respected as a human being. We mark this time in the Lutheran tradition's history by asking Rev. Melissa Maxwell-Doherty, Vice President of Mission and Identity at the California Lutheran University in Thousand Oaks, to reflect on what the Reformation tradition means for those who engage in interfaith cooperation and engagement.
I quote Rev. Elizabeth Eaton, presiding bishop of the ELCA (Evangelical Lutheran Church in America) who states in Engaging Others, Knowing Ourselves: A Lutheran Calling in a Multi-Religious World – "We all live and work in an increasingly multi-ethnic, inter-religious context. In our daily encounters with diversity, what are the theological and practical challenges we face? What from our Lutheran tradition is instructive for understanding our inter-religious calling and living out of community?"
I believe that Martin Luther's emphasis on the generosity and grace of God can fuel and inform the way that we live out our relationships with our neighbors, especially our neighbors from religious or philosophical traditions different from our own. I stand aware that all of life comes as a sheer gift from the hand of God. All I have received—human community, planet home, artistic expression, and the necessities and nourishment for daily life—all come from the bounty of God's blessing given to me without any action or merit on my part. God's favor knows no limits. A very good response to this generosity is a joy that springs deep from within me, a posture of gratitude that shapes how I relate to others, and a bold commitment to serve my neighbors and my community.
We leave you with two quotes from Martin Luther.
"The whole being of any Christian is faith and love. Faith brings the person to God, love brings the person to people."
"We are not yet what we shall be, but we are growing toward it, the process is not yet finished."
We hope you'll explore what these quotes mean to you during this time of reflection.
Image: Ferdinand Pauwels [Public domain], via Wikimedia Commons