Welcome Ancestral Guard!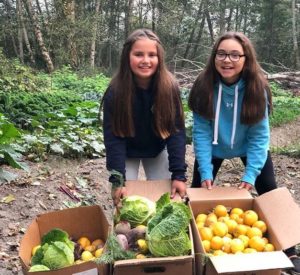 Vesper Society believes that a just society begins when everyone is well and respected as a human being. We have linked arms with Ancestral Guard in Del Norte County (north of Humboldt County) to create long-term solutions for a healthy future. Ancestral Guard is an indigenous organizing network focused on youth empowerment and environmental advocacy.  We interviewed its co-founder, Samuel Gensaw.
(Photo credit:  Ancestral Guard.)
We love the name Ancestral Guard.  Where did the name come from and how did it all start?
When I was sixteen years old, a group of us were known as the "smokehouse boys" because we regularly smoked the fish we caught. Then someone asked, "what about the girls?"
In response I wrote "ancestral guard" in my notebook. At the time I was thinking that we need to protect our children who will someday become someone's ancestor.  We are making sure our future ancestors will be strong and healthy.
Food sovereignty is essential for your community because it is difficult to access healthy foods. What are you doing to solve that problem?
We were determined to create victory gardens for expectant mothers so they would have access to fresh foods.  We secured property to build the gardens, cleared the location using heavy machinery, contracted with a nursery to start the seeds, and consulted with a master gardener along the way.
Now we are producing cabbage, snow peas, green and purple beans, squash, pumpkins, arugula, lemon cucumbers, carrots, dino-kale, and broccoli. Ancestral Guard members are taking fresh produce boxes to families living in Yurok tribal housing in Klamath and Crescent City.
One family said "Before they began delivering veggies to our family, we didn't have any access to fresh produce in our area. Now we get fresh meats and vegetables delivered right to our house. My family loves the lemon cucumbers!"
Covid-19 laid bare the inequities and inadequacies of our food system.  What has been the impact in your community?
The pandemic disrupted food delivery and transportation lines into our rural area. Our victory garden is now one of the largest food gardens in Del Norte County. It has attracted the attention of the Del Norte County Food Council, the Del Norte County Permaculture Guild, and the Yurok Tribe.  All want to collaborate with Ancestral Guard to provide resources and expand operations.  We are excited because this is the first time all these entities will be working together.
Ancestral Guard's youth empowerment work focuses on mental health and wellness. Can you explain what that means?
We promote traditional ecological knowledge, science, and values of world renewal. Working with the soil, fishing in the rivers, building redwood canoes connects youth to the land, resources, and our traditions which are essential for our identities.
We understand adverse childhood experiences and intergenerational trauma.  Reconnecting children and families with harvesting traditional foods, teaching children how to make regalia, exploring the Klamath River – all these activities promote a deeper sense of self and community that help in the healing process.
 Ancestral Guard was recently featured in the documentary film "Gather, an intimate portrait of the growing movement among Native Americans to reclaim their spiritual, political, and cultural identities through food sovereignty, while battling the trauma of centuries of genocide." What do you want the viewers to take away from the film?
I want people to watch the film and feel liberated to host open and honest conversations with the people they love. I realized that these discussions about indigenous resiliency and real history helped me because they made serious obstacles within my own life feel less challenging. I hope you all enjoy the film!
Vesper Society is honored to partner with Ancestral Guard to create a thriving and healthy future for the Tribal communities in northwest California.