Welcome K'ima:w Medical Center!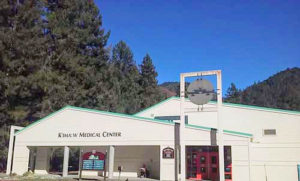 Vesper Society links arms with local leaders in overlooked communities that want to create a healthy future. We warmly welcome our partnership with K'ima:w Medical Center to help improve the health of their community from the inside out.
K'ima:w Medical Center is a robust ambulatory healthcare service located on the Hoopa Valley Indian Reservation in Humboldt County. Ninety miles south of the Oregon border, the Reservation is the largest in California at 92,000 acres. The Trinity River runs through the remote valley surrounded by forests and mountains. The Hupa people call themselves Na:tinixwe which means "people of the place where the trails return."
K'ima:w's mission is to provide quality healthcare to the Native American people and all others who may seek or require its services in the valley and surrounding communities. The medical center is an Indian Health Service (agency of the Department of Health and Human Services) guided tribally governed facility and is currently the only Joint Commission accredited Indian health clinic in California.
The clinic offers a wide variety of services including family practice, emergency medical services, laboratory, radiology, pharmacy, behavioral health, substance use disorder program, diabetic education, and dental services. Telemedicine specialties such as psychiatry, hepatology, rheumatology, ophthalmology, dermatology, and endocrinology are also available.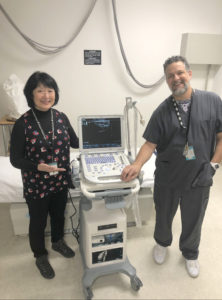 Before our partnership, many patients had to drive long distances to the coastal cities to obtain sonograms. Vesper's support has enabled K'ima:w to purchase a portable state of the art ultrasound machine, allowing patients to receive care in their own community. With this tool, K'ima:w can improve access to quality healthcare through perinatal care, screenings, echocardiograms, and other modalities as needed.
The recent addition of two reproductive health care physicians from Eureka who visit the facility on a biweekly or weekly basis has also enhanced the perinatal care program. The physicians, along with certified technologists, will use the new ultrasound machine to monitor pregnancies and early detection of any complications. Patients will be able to access the services on site, reducing costly waiting time and greatly improving outcomes.
During the COVID-19 pandemic, the clinic has been a resource for research and testing, with major plans to increase future testing of the community and surrounding communities as needed. Dr. Eva Smith, K'ima:w Medical Director, is also the public health officer for the Hupa nation and works closely with the Tribal government and the Humboldt County public health system to ensure safety and consistency.
The Native American population has certain demographic factors that are considered higher risk for this particular viral threat. Every day the clinic works diligently to practice disease prevention and preparedness for increased incidence. The challenges in this rural setting involve not only increased vulnerability of overlooked communities, but sometimes densely populated households.
One way to mitigate risk for infection is to help communities help themselves by offering as many services possible locally. Even before the pandemic this has been one of the strategies to best serve the population, and now it is more important than ever. Thanks to increased services and preventative care,
the community has experienced only one positive case for the virus and the patient has since recovered. They currently have zero cases, hospitalizations, or deaths due to COVID-19.
K'ima:w means "good medicine" in the Hupa language. Vesper Society is proud to partner with K'ima:w Medical Center to offer "good medicine" and long-term solutions that improve the health and well-being of families in their community.