Welcome Marin City Health and Wellness Center!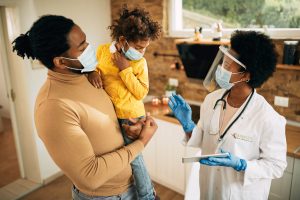 Vesper Society believes that a just society begins when everyone is well and respected as a human being. We have linked arms with Marin City Health and Wellness Center to imagine a more equitable future for their communities. Marin City Health and Wellness Center is a Federally Qualified Health Center headquartered in Sausalito, CA. Founded in 2006 by a grassroots effort, the organization's mission is to provide innovative health and wellness services to all, making primary care accessible for low-income families of a historically African American community.
The Marin City Health and Wellness Center's goal of African American Health Equity speaks to Marin City's historical significance within the African American community dating back to 1942 when the Bechtel Company built a housing center for its employees during World War II to help meet the demand for new ships. When the war ended, many of the African American shipyard laborers who had migrated from the Southern United States became permanent residents of Marin City either by choice or due to various racial discriminatory laws limiting housing opportunities in other parts of Marin County (Source: Marin City Development Corporation).
The organization now operates 3 different locations throughout the Bay Area including its flagship location in Marin County, the Bayview Clinic in San Francisco, and a women's health clinic in San Rafael. Marin City Health and Wellness Center is also on pace to open a new location at 100 Philips Drive in Sausalito in 2021 which will provide patients with high-quality primary medical care services, dental care, behavioral health care and recovery services in a beautiful, modern, and technologically advanced setting.
The Bayview Clinic in San Francisco has a rich history of providing health care services in one of San Francisco's historically black neighborhoods. For decades, the clinic was led by Dr. Arthur Coleman, a key figure in San Francisco's Bayview District and the first black physician to operate a private practice in the area. Dr. Coleman's legacy of serving his community still holds strong today as Marin City Health and Wellness Center looks to carry his work forward by providing high-quality health care services to residents of the Bayview Community at Dr. Coleman's former facility on 3rd Street, now a San Francisco landmark.
The Women's Health Center in San Rafael places a focus on the health disparities experienced by African American women. Research shows that African American women have higher rates of pregnancy-related health complications across the board due to the systemic disadvantages within the health care system that have also been tied to racial injustice and prejudice. The organization seeks to change this course by providing comprehensive quality care in an accessible and equitable manner.
As the gentrification of historically black and brown communities continues throughout the Bay Area, Marin City Health and Wellness Center's mission is as important as ever. The recent outcry for social justice and equal rights for black and brown communities have underscored the need for this work to continue, with Marin City Health and Wellness Center uniquely positioned to play a leading role in these efforts. Vesper Society is proud to partner with the leaders of this important organization to bring long-term solutions for their communities into view.
To learn more about Marin City Health and Wellness Center, please visit MarinCityClinic.org