Women's Community Clinic Merging with HealthRIGHT 360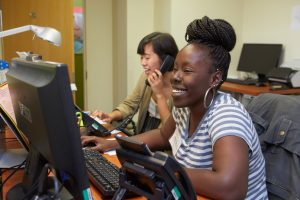 Vesper Society is committed to finding long-term solutions that improve the health and well-being of overlooked communities. In the Bay Area, low-income women and girls was one such overlooked community.
One of the organizations serving this community is Women's Community Clinic (the Clinic). As one of the only local safety net clinics in the Bay Area focused on women's health, the Clinic believes that women have the right to make their own decisions about their health and has been providing high-quality health services since 1999. For women—both female-born or female-identified—who can't get care anywhere else, the Clinic is a sanctuary of high-quality, affordable care.
The Clinic's services include primary care, sexual and reproductive health, and—with support from Vesper Society—in-house mental health counseling, an urgent need among its clients. The Clinic sees over 4,000 clients each year; over 90% of whom make less than $25,000 annually.
In addition to these clinical services, the Clinic provides an outreach program that provides resources and support to women facing homelessness and an innovative workforce development program that provides on-the-job training and career preparation for aspiring health professionals. These adaptive solutions offer a stepping stone into the Bay Area's quickly-growing career sectors and helps foster a new generation of providers who are committed to judgment-free, culturally sensitive health care.
These services are more important than ever. With proposed changes to the Affordable Care Act and cutbacks in other federal health care programs, safety net clinics like these are now under threat. Thousands of women in the Bay Area risk losing their access to health care. Earlier this year, the Clinic faced a significant funding gap when it lost a federal grant that had been essential to its operations. Knowing that further cuts in government funding are likely at a time when women will need their services more than ever, the Clinic began to explore new options for long-term sustainability in an uncertain climate.
Women's Community Clinic is excited to announce that in August 2017, it will merge with HealthRIGHT 360, a well-respected community health provider for over 38,000 people in 13 California counties. This new partnership will allow the Women's Community Clinic to continue providing their invaluable services to the thousands of women and girls who rely on them and also offer clients even better access to a network of affordable care, including much-needed mental health and substance-use services. Women's Community Clinic will share its women's health expertise with HealthRIGHT 360 as well.
Coincidentally, both HealthRIGHT 360 and the Clinic have roots in the Haight Ashbury Free Clinics, one of San Francisco's most illustrious and forward-thinking community health providers. The Haight Ashbury Free Clinic has been providing free medical services in San Francisco since 1967. When budget cuts forced the Haight Ashbury Free Clinic to close their women's health center in 1999, a group of volunteers and clinicians reopened the center independently. Thus, the Women's Community Clinic was born. HealthRIGHT 360, in turn, was a result of the 2011 merger of Haight Ashbury Free Clinics with Walden House, a substance use treatment center in operation since 1969.
After the merger, Women's Community Clinic will become known as Women's Community Clinic, a Program of HealthRIGHT 360. It will continue to operate in the same location in the San Francisco Western Addition, offering the same services and championing women's right to excellent, affordable health care.
Vesper Society supports this work and this merger because we believe that a just society begins when everyone is well, and respected as a human being. Every day, we link arms with leaders of overlooked communities—like Women's Community Clinic—that want to create a healthy future, and support them in doing so.