Women's Community Clinic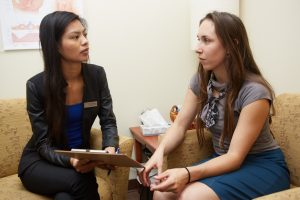 At Vesper Society, we seek out overlooked communities and help them devise ways to create a healthy future. One of the ways we do this is by supporting the Women's Community Clinic (the Clinic) in San Francisco. Though San Francisco is known as a thriving and prosperous city, many of its residents—especially low-income, homeless, and marginalized women—have limited or no access to preventative healthcare.
The Women's Community Clinic, founded in 1999 by a group of volunteer graduates from the UCSF School of Nursing, believes that preventive, educational care is essential to lifelong health and that all women deserve excellent healthcare, regardless of their ability to pay. The Clinic works hard to ensure that each client feels comfortable and safe in a warm and welcoming environment. Their treatments are culturally sensitive, evidence-based, and tailored to each client's needs and circumstances.
The Clinic provides a full range of client-centered clinical services including acute and chronic primary care, reproductive health services, integrated mental health counseling, and referrals to onsite prenatal care. In San Francisco's Western Addition neighborhood, the Clinic's work addresses some troubling statistics; 25% of Western Addition residents use the emergency room as their primary source of care and only 6-9% are receiving preventative healthcare. In San Francisco's Mission District, the Clinic's Outreach Program provides health education services to homeless and marginalized women. The Mission's Workforce Development program and the Western Addition's Health Training Program, which focuses on African American women, provide valuable training to the next generation of healthcare providers, leaders, and advocates, and keeps the offered services affordable for all.
Today, the Clinic serves more than 4,000 San Francisco women and girls over the age of 12, of which 91% are uninsured and most are living at or below the Federal Poverty level.
Vesper Society's support allowed for the expansion of the Clinic's mental health services, enabling the Clinic to develop an integrated approach to women's health and promote total mental, emotional, and physical wellness. Vesper Society believes that a just society begins when everyone is well and respected as a human being. With these long-term solutions in place, we are one step closer to realizing the potential for healthy communities to thrive and prosper.