Interfaith Celebration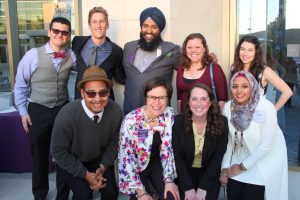 From the very beginning, Vesper Society saw vocation as a way to exercise one's power in the world, putting faith into action competently and effectively for the common good. To honor that legacy, Vesper Society held an interfaith celebration at California Lutheran University as its capstone event in its 50th anniversary year.
Rooted in the Lutheran tradition, Vesper Society understands we have our own faith and spiritual traditions that call us to serve. In the 21st century we need to add another layer – that of interfaith understanding and interfaith literacy – for in order to serve well in a global and local context, we must understand the traditions and values of others.
At the March 12 Saturday banquet, long-time Vesper friends sat alongside recent California Lutheran University graduates to share stories about their own interfaith journeys. California Lutheran University educates leaders for a global society who are strong in character and judgment, confident in their identity and vocation, and committed to service and justice.
Program speakers included Pastor Bill Harman, Professor Colleen Windham-Hughes, Interfaith Allies alumna Rebecca Cardone, and Professor Rahuldeep Gill. After viewing historic photos of the Parliament of World Religions over the years, we learned how Interfaith Allies continues to blossom.
Sunday opened with an interactive interfaith prayer service "Gather Us In" organized by Pastor Melissa Maxwell-Doherty. Participants sang, read verses from different traditions, and wrote words of hope on smooth rocks that will be placed throughout the California Lutheran University campus.
A procession from the prayer service led to a communal lunch hosted by Vesper Society. During a vegetarian meal, participants learned about the Sikh tradition of Langar from Professor Rahuldeep Gill.  Langar expresses the ethics of sharing, community, inclusiveness, and oneness of humankind.
We were delighted that the Interfaith Youth Core national conference attendees who were on the California Lutheran University campus that day were able to participate in the prayer service and communal lunch. Enjoy viewing the photographs taken during the two-day interfaith celebration on campus.