Interfaith Education for the 21st Century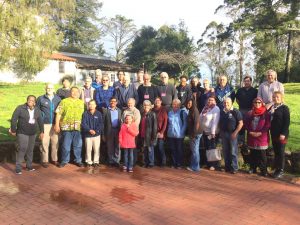 Rooted in the Lutheran tradition, Vesper Society understands we have our own faith and spiritual traditions that call us to serve. In the 21st century we need to add another layer – that of interfaith understanding and interfaith literacy – for in order to serve well in a global and local context, we must understand the traditions and values of others.
The Theological Education for Emerging Ministries (TEEM) at Pacific Lutheran Theological Seminary (PLTS) prepares women and men for ordained ministry in the Evangelical Lutheran Church in America (ELCA) and the Episcopal Church. Vesper Society support enabled Dr. Rose Aslan from California Lutheran University to teach Major World Religions with Dr. Moses Penumaka, Director, TEEM.
Dr. Penumaka states that theological education equips us to analyze our cultural context critically and enables us to seek understanding and relevance of faith so we can participate creatively in our pilgrimage of life in supporting, sustaining and preserving God's whole creation.
For the past four years Vesper Society has supported Interfaith Allies at the California Lutheran University (CLU) and with CLU's merger two years ago with PLTS in Berkeley, Vesper Society extended its interfaith support to PLTS.
Vesper Society believes in a simple idea: a just society begins when everyone is well and respected as a human being. By being in service to others, our work facilitates change and uplifts people, organizations, and communities.